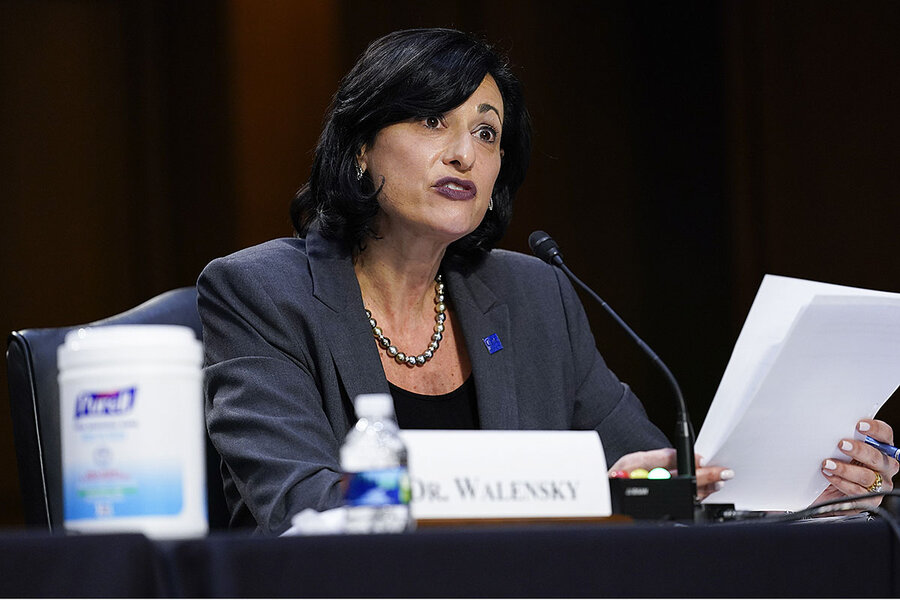 Dr. Rochelle Walensky, director of the Centers for Disease Control and Prevention, testifies during a Senate Health, Education, Labor, and Pensions Committee hearing on the federal coronavirus response, on Capitol Hill in Washington, March 18, 2021.
Despite concern that the pandemic would lead to a spike in self-harm, deaths from suicide last year fell to a five-year low, according to a new report from the National Vital Statistics System at the Centers for Disease Control and Prevention.
Dropping from 47,511 to 44,834 – a 5.6% decrease – the total number of suicides in 2020 marked a second straight year of decline, after three consecutive years of increase. 
The report's numbers are still provisional and full data, complete with demographic breakdowns, won't be available until late this year. The reasons for the decline are not yet clear. Notwithstanding, the decrease marks a rare bit of good health news in 2020, says lead author and health scientist Farida Ahmad.
Why We Wrote This
2020 was a hard year for public health, both in the U.S. and worldwide, but one predicted disaster did not come to pass. The U.S. suicide rate actually decreased, even amid pandemic lockdowns.
She cautions that 2020 is difficult to compare to other years. Still, "given a lot of the chatter about mental health and the conversation surrounding it" last year, she says, the total runs counter to what she initially expected. 
While total deaths rose precipitously in 2020 due to the pandemic, Americans can take the drop in self-harm as encouragement amid a year of loss.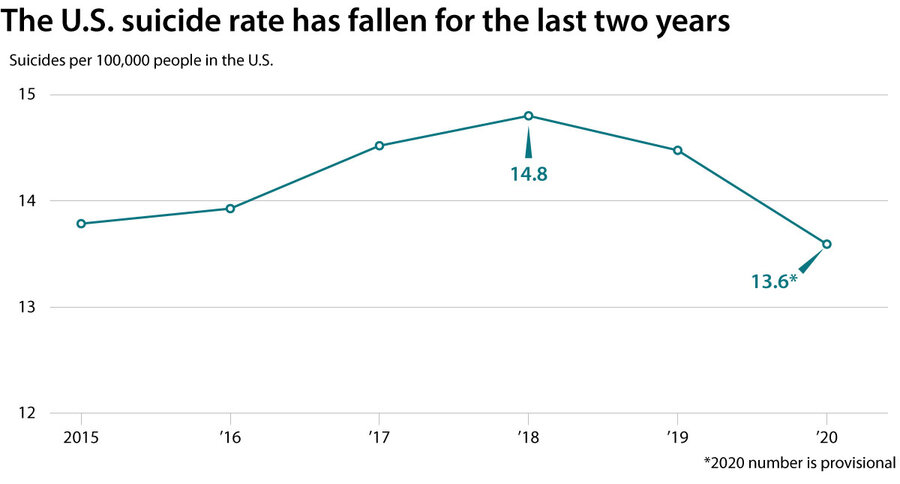 SOURCE: National Center for Health Statistics; U.S. Census Bureau, Population Division
|
Jacob Turcotte/Staff
If you are in crisis, please call the National Suicide Prevention Lifeline at 1-800-273-TALK (8255).
Dear Reader,
About a year ago, I happened upon this statement about the Monitor in the Harvard Business Review – under the charming heading of "do things that don't interest you":
"Many things that end up" being meaningful, writes social scientist Joseph Grenny, "have come from conference workshops, articles, or online videos that began as a chore and ended with an insight. My work in Kenya, for example, was heavily influenced by a Christian Science Monitor article I had forced myself to read 10 years earlier. Sometimes, we call things 'boring' simply because they lie outside the box we are currently in."
If you were to come up with a punchline to a joke about the Monitor, that would probably be it. We're seen as being global, fair, insightful, and perhaps a bit too earnest. We're the bran muffin of journalism.
But you know what? We change lives. And I'm going to argue that we change lives precisely because we force open that too-small box that most human beings think they live in.
The Monitor is a peculiar little publication that's hard for the world to figure out. We're run by a church, but we're not only for church members and we're not about converting people. We're known as being fair even as the world becomes as polarized as at any time since the newspaper's founding in 1908.
We have a mission beyond circulation, we want to bridge divides. We're about kicking down the door of thought everywhere and saying, "You are bigger and more capable than you realize. And we can prove it."
If you're looking for bran muffin journalism, you can subscribe to the Monitor for $15. You'll get the Monitor Weekly magazine, the Monitor Daily email, and unlimited access to CSMonitor.com.