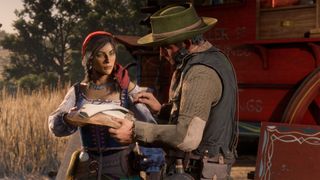 (Image credit: Rockstar Games)

The latest Red Dead Online patch notes are here, and it's a good week to be a Collector.
Players who have taken up the Collector role in Red Dead Online will be able to earn double rewards for all Collector Set Sales this week. Madam Nazar typically pays more for a full set of items than individual bits and bobs anyway, so this is the time to cash in any sets you've been sitting on, or complete any that you've almost got finished. You'll also get double Role XP as you go for discovering collectibles out in the world.
If you complete Nazar's weekly collection, on top of the normal rewards, you'll get 2,000 Club XP and an offer for 40% off a Novice or Promising Collector Role item. Plus, if you play as a Collector anytime in the next week, you'll grab a free Collector's Map pointing to a number of pricey coins.
Even if you aren't a Collector yet, you'll be able to get started with 5 Gold Bars off the price of picking up a Collector's Bag this week (dropping the total price to 10 bars). Then you can kit yourself out with up to 40% off a a variety of Collector's accoutrements from Madam Nazar.
Meanwhile, in non-Collector news, you'll be able to earn double RDO$ on all A Land of Opportunities missions, and Double XP for matches of Hardcore Gun Rush – basically a 32-player battle royale with no consumables or Ability Cards. You can also save some cash with 30% off Criollo horses, 40% off pistols, and 30% off double bandoliers.
Make money fast in Red Dead Online | Red Dead Online best horses | Best Red Dead Online weapons | Red Dead Online Madam Nazar | Red Dead Online Gus McMillan | Red Dead Online tips | Red Dead Online Naturalist | Red Dead Online roles | Red Dead Online gang hideouts
I got a BA in journalism from Central Michigan University – though the best education I received there was from CM Life, its student-run newspaper. Long before that, I started pursuing my degree in video games by bugging my older brother to let me play Zelda on the Super Nintendo. I've previously been a news intern for GameSpot, a news writer for CVG, and now I'm a staff writer here at GamesRadar.